10 Ideas of Bucket List for Adventure Travellers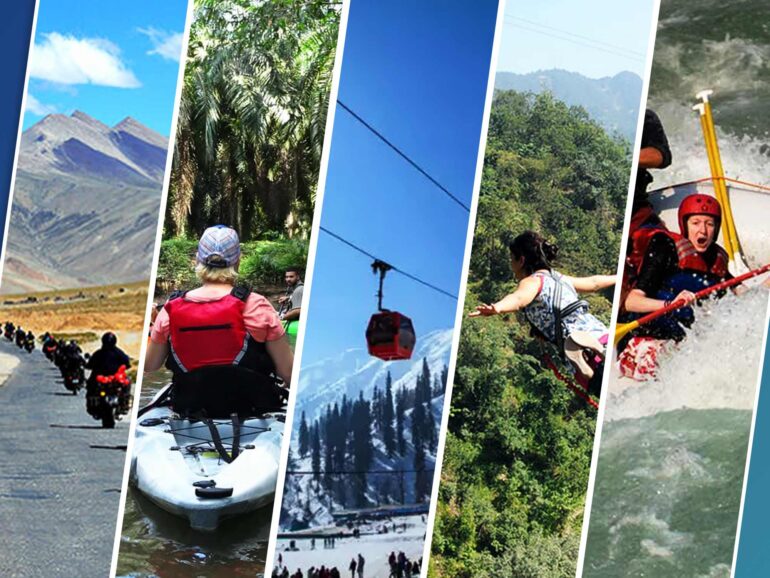 Have you spent your lockdown hopping from one couch to the other? Well, rest and leisure may feel good. But too much of it can make life monotonous and leave your heart aching for some activity! Even if you are a fitness freak who has spent a comparatively productive lockdown, working out within the confines of the walls can get boring after a period of time.
It is time for you to test your fitness outdoor and give your soul a taste of the adventure and adrenaline that it has been waiting for! With the second wave of the covid-19 almost coming to an end, now is the best time for you to sit down and start chalking your plans.
Best 10 Ideas for Adventure Travellers in India
To help you choose the best, we bring you a curation of the top adventure activities from across the length and breadth of our country. Go through them to plan your next trip or add them to your bucket list.
Gondola Ride – Gulmarg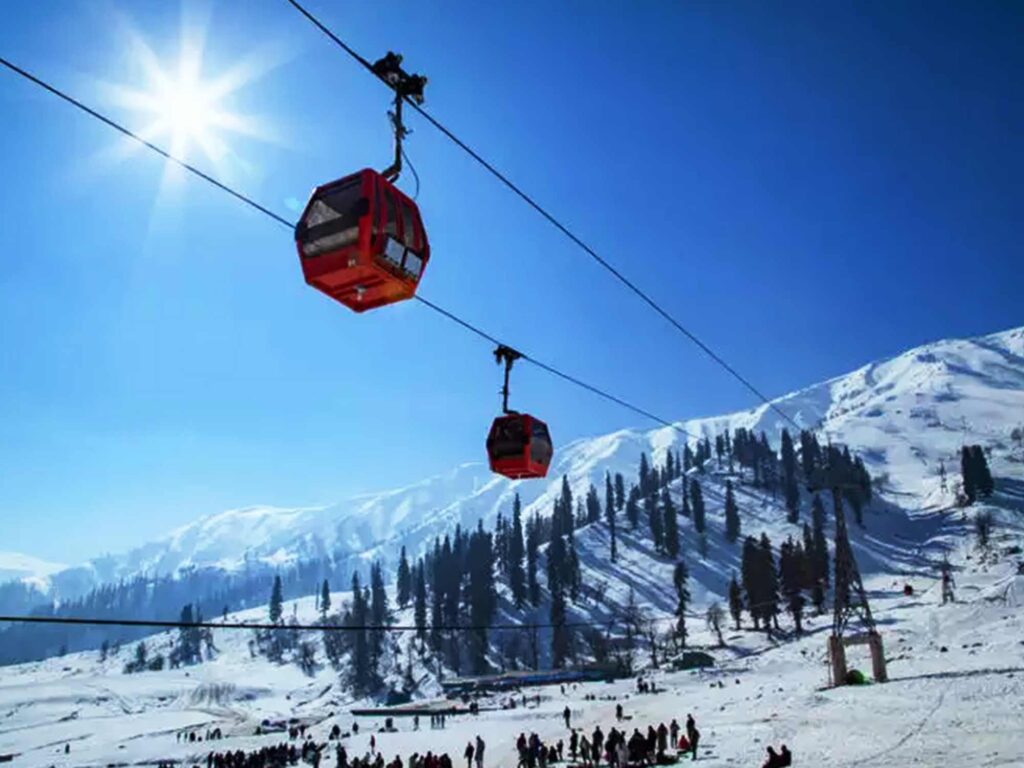 A hill station known for its exquisite lush pine forests and snowcapped Himalayan mountain peaks, Gondola Gulmarg, is the best way to get a panoramic view of this beautiful location. Well known as one of the prime attractions of the Kashmir Valley as a whole, this cable car system is one of the highest in the world. The entire route is divided into three phases, which give a picturesque view of the magnificent Nanda Devi range, the Pir Panjal range, and the LOC. Other than cherishing attractive views around, Gulmarg is known as one of the best adventure tour and travel spots, offering activities like snow skiing, snowboarding, sledging, and horse riding.
Best Time: January – February
How to reach: Gulmarg Gondola is situated 20 minutes away from Gulmarg.
Major attractions: Alpather Lake, Shrine of Baba Reshi, Saint Mary's Church, Gulmarg, and many more.
Roopkund Trek- Uttarakhand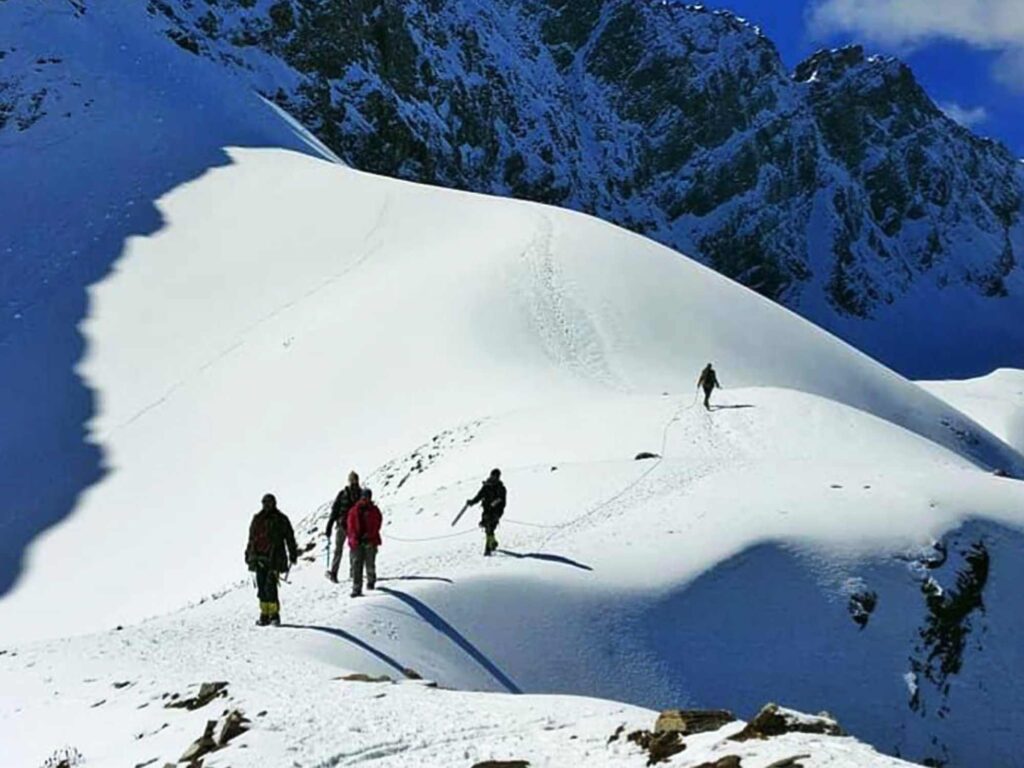 Set amidst the mountainous peaks, Roopkund is probably one of the most popular trekking sites in India. Filled with deep virgin forests, breath-taking campsites, and the mesmerizing snow-covered meadows, this 5029 m trek starts from Lohajung, a tiny pass seated in the Garhwal Himalayas. It leads to an adventurous journey towards the famous glacial lake, which is said to be frozen throughout the year. Other than the excitement of the highly intense track, the lake also carries an element of mystery in it, like remains of skeletons and horses belonging to the Paleolithic age in and around the lake.
Best Time: May-August
How to reach: the trek begins from Lohajung, which is 230 km from Kathgodam.
Major attractions:Roopkund Lake, BedniKund and Homkund Lake.
You may also like: 10 Trekking Destinations In India For Beginners
White River Rafting – Rishikesh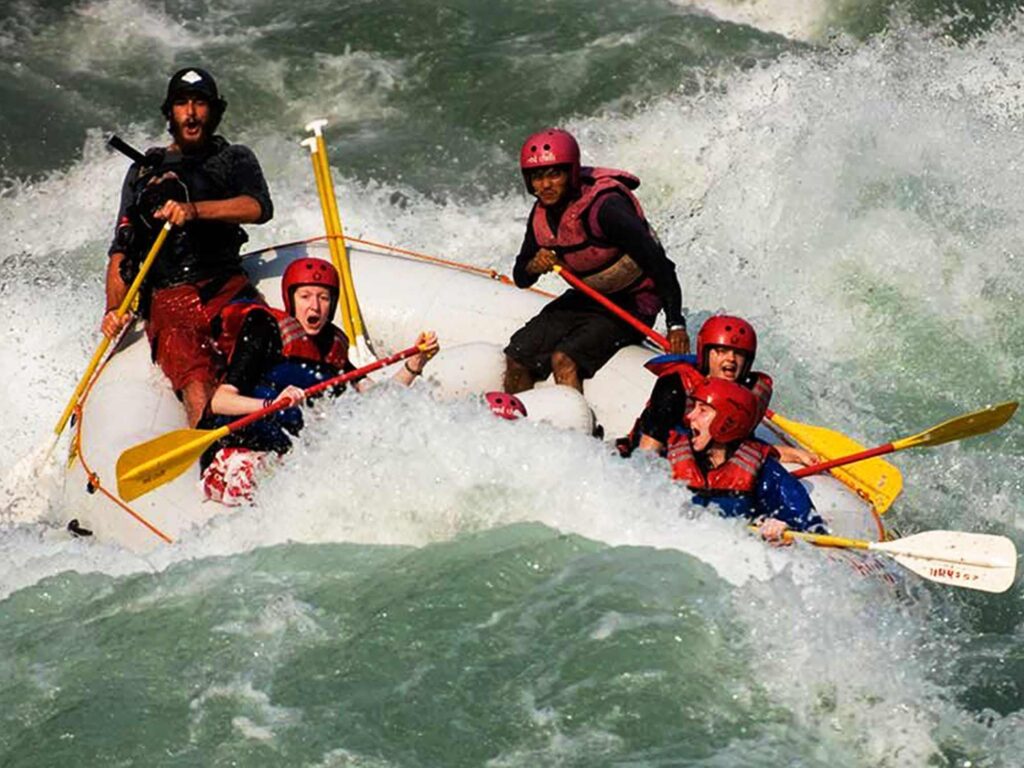 River rafting in Rishikesh has achieved considerable popularity among adventure enthusiasts from India and abroad in the past few years. Located in the foothills of Uttrakhand, Rafting takes place in the holy river of Ganga, which offers a breathtaking view of the environ which is a rejuvenating experience in itself. Other than river rafting, rock climbing, cliff jumping, body surfing, and many other adventure sports can be experienced in Rishikesh, making it one of the best spots for backpackers to experience adventure sports in India.
Best Time: March-June
How to reach: Nearest airport around Rishikesh is Jolly Grant Airport in Dehradun, which is around 35 km.
Major attractions: LakshmanJhula, TriveniGhat, NeelkanthaMahadeva Temple.
Scuba Diving – Malvan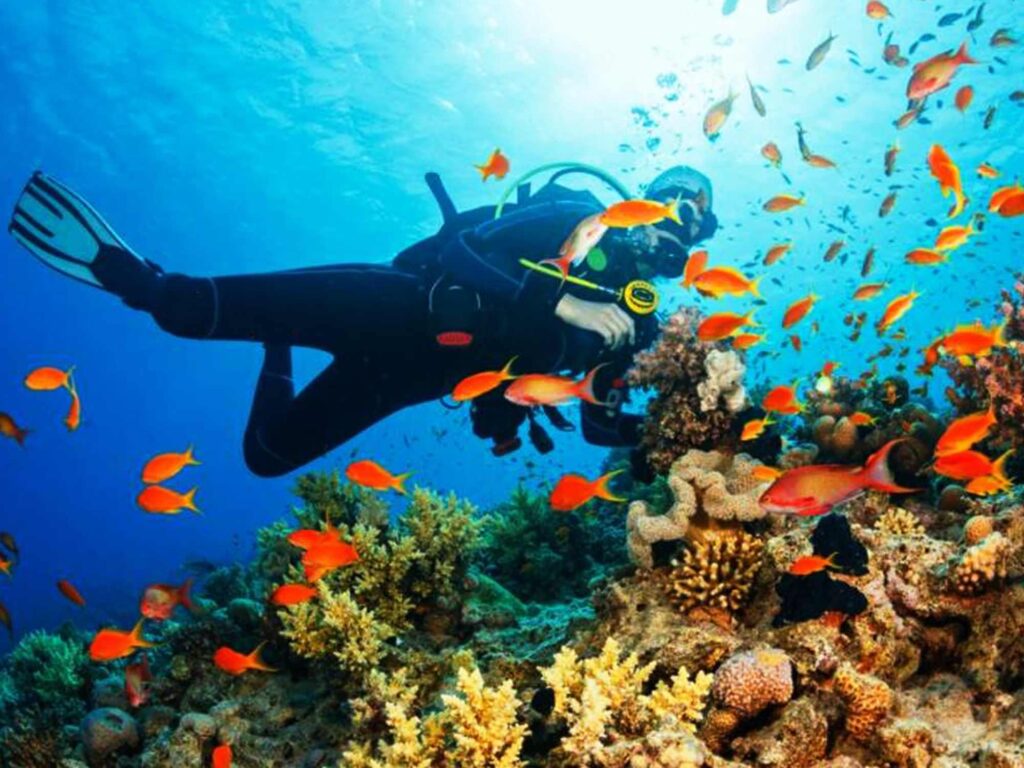 Located in the Sindhudurgdistrict of Maharashtra, Scuba Diving in Malvan gives an exhilarating chance to explore the majestic corals and magnificent marine life under the Arabian Sea. Considered as one of the best that this place has to offer, this 25 feet underwater experience can be enjoyed by everyone. It provides the best of instructors who make sure you have a safe and great experience exploring the depths of the ocean and mingling with your aquatic counterparts. Along with Scuba Diving, an extensive range of water sports such as Speedboat, Jetski, Banana Ride, Parasailing, and Slipping Bumper rides can be experienced here.
Best time: October to May
How to reach: The nearest airport is the Dabolim Airport in Goa, which is 28kms from Panaji.
Major attractions: Tarkarli Beach Sindhudurg Fort, Rock Garden.
You may also like: Top 10 Adventure Sports Activities in India
Jim Corbett Safari – Ramnagar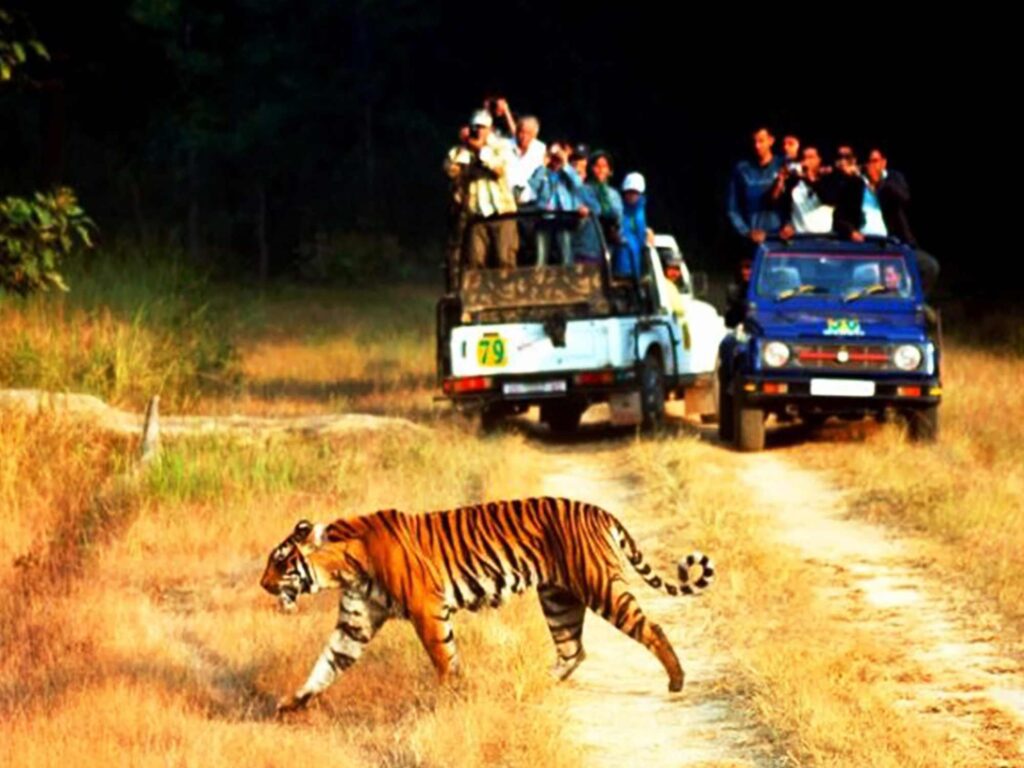 Located in the state of Uttarakhand, Jim Corbett national park is probably one of the oldest national parks in India is renowned for being home to the majestic Royal Bengal Tiger and various other flora and fauna. To enjoy the nature and wildlife in the park, different open four-wheeler Jeep safaris are arranged within the park. This Jeep safari offers its tourists a ride through the lush jungles of Corbett so that one can experience the magical landscape and exquisiteness of wilderness. If lucky, one can enjoy the sight of the majestic Bengal tiger roaming freely in its natural habitat.
Best time: October –February
How to reach: The nearest railway station is in Ramnagar, which is around 12 km from the park.
Major attractions:DurgaMandirTemple,HanumanDham,Corbett Falls.
Camping – Coorg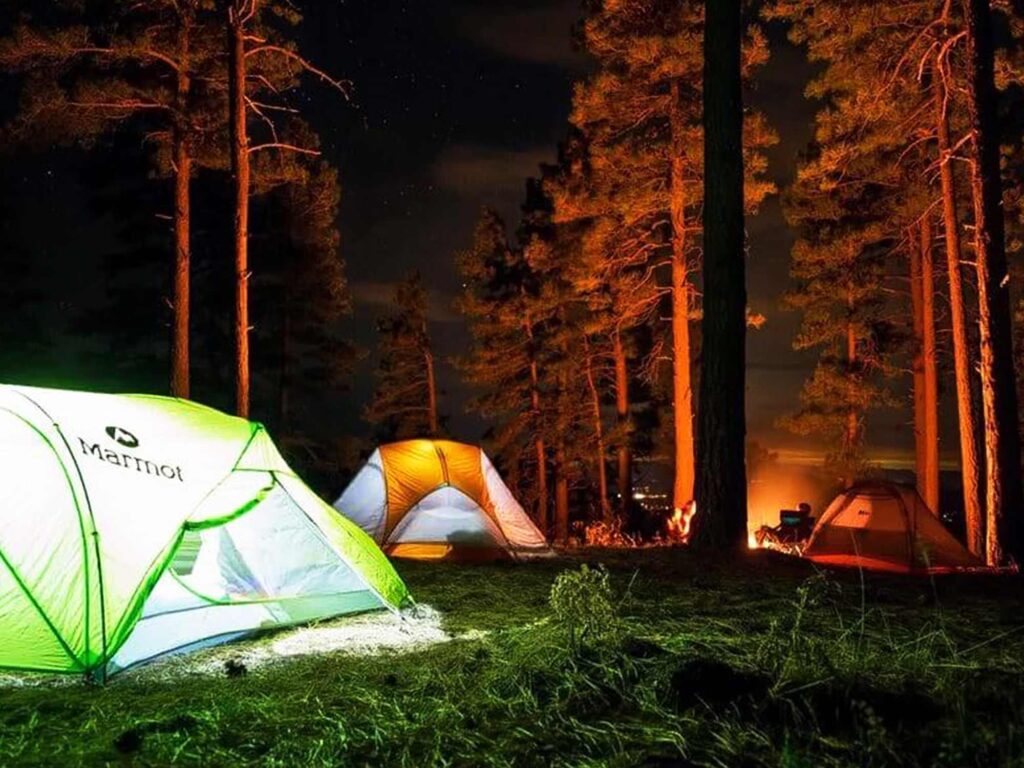 Situated at the eastern slopes of the Western Ghats, the lush green trails of Coorg offer one of the best camping spots for travellers or nature lovers. Known as the Scotland of India, Coorg is renowned for its astounding scenic beauty and flourishing coffee plantation greenery. Camping amidst the lush green and fragrant coffee estate captivates the imagination of every tourist who visits this place. These camps offer the best of high-end amenities and best-in-class services. Activities like rainforest trekking, outdoor games, cycling, and jungle safari, adds another fun dimension to the whole camping experience.
Best time: March-June
How to reach: The nearest airport is at Mangalore, which is about 135 km away.
Major attractions: IruppuFalls, Tadiandamol Peak, Barapole River, Dubare Elephant Camp, Mallalli Falls.
You may also like: 8 Reasons that Fascinates India as The Best Travel Destination
Bungee Jumping –Rishikesh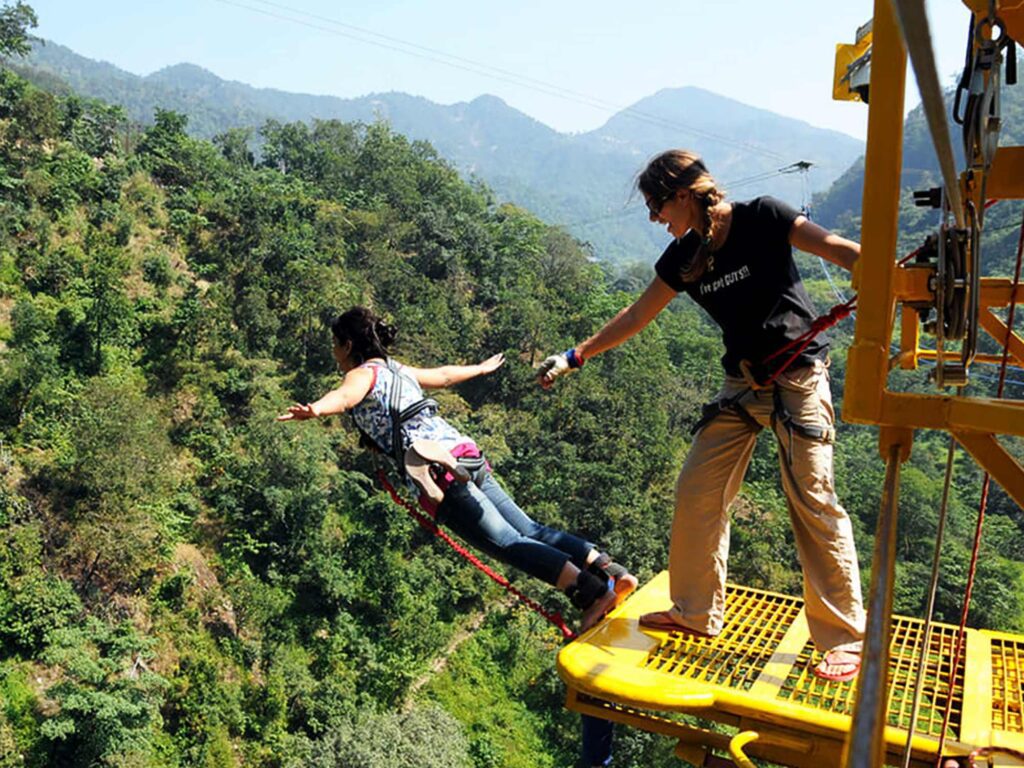 A place usually known for its holy pilgrimages, Rishikesh, in recent times, has become one of the best adventure places in India. Located in Mohanchatti with the name, JumpinHeights; this place features the highest and the very first fixed-platform bungee jumping spots in India, with a height of 83 meters. This activity is open for all adventure enthusiasts between the ages of 14 to 60 with the help of professional experts from all the way from Australia and New Zealand. Along with the thrilling and adrenaline rushing experience, a Certificate of excellence and a badge will be provided on the successful jump.
Best time: September-November.
How to reach: the nearest airport located at Dehradun, a distance of 38 km from the Bungee Bridge.
Major attractions: LakshmanJhula, NeelkanthaMahadevatemple, Geeta Bhawan, TriveniGhat.
Zip-Lining- Mawkdok Dympep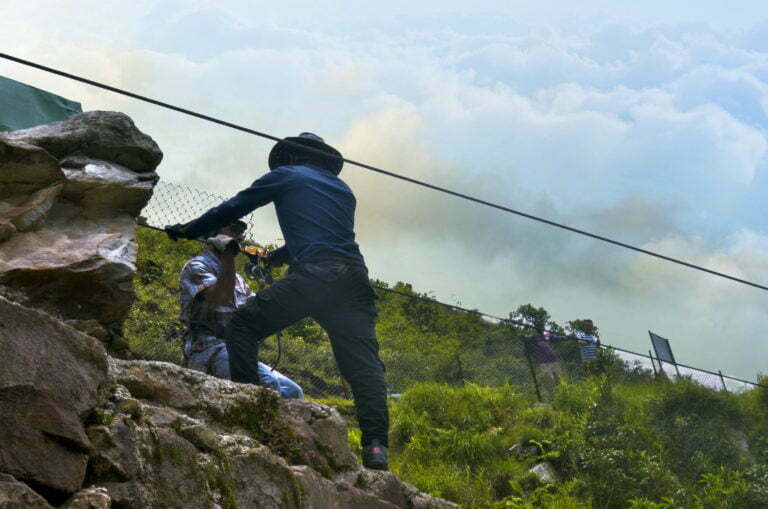 Towering 1200 feet over the lush Mawkdok Dympep Valley, Zip-lining in Mawkdok holds the title of being the fastest, longest, and the very first Zip-line in Eastern India. At a length of 2,600 feet, riders can fly through the air at rapid speed and enjoy the sumptuous panoramic view of the lush green valley, which will mesmerize any adventurer to the core. The biggest thrills by the adventure seekers can be experienced with the help of trained, certified instructors who ensure you have the best of experiences. Best known for its scenic beauty, Zip-Lining in Mawkdok Dympep can be an exciting addition to your Northeast trip itinerary.
Best time: December-June
How to reach: It is 30 km from the central city of Shillong.
Major attractions: Seven Sister Waterfalls, Mawsmai Cave, Nongriat Double Decker Living Root Bridge.
You may also like: Top Attractions in Cherrapunjee (Sohra)- Everything You Need To Know
Kayaking – Aguada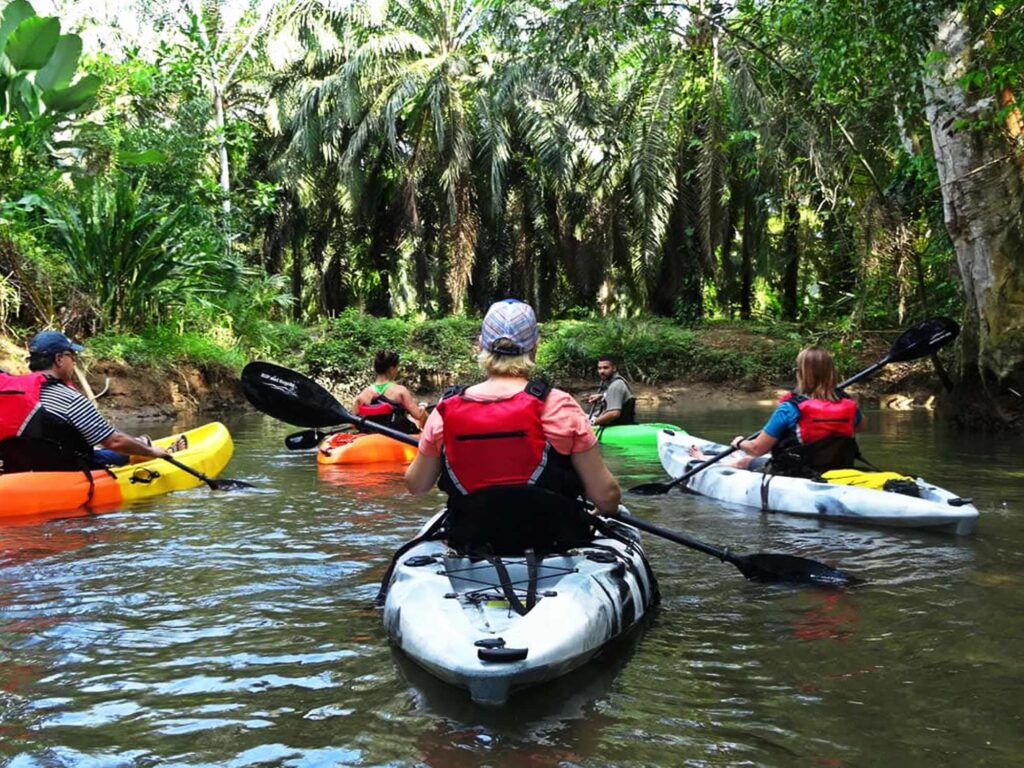 Other than the endless beaches, seafood, and never-ending parties, Goa has a list of water sports activities on offer; Kayaking is one of them. Starting from the Nerul Bridge and into the backwaters, amidst the mangroves forests and along the Aguada wetlands and the sweet chirp of the exotic birds will leave everyone awestruck and in love with nature. Guests of all ages can enjoy it as it is handled by various trained instructors who make sure you're adventure trip with friends and family is an effortless and cool trip.
Best Time: October–May
How to reach: It lies about 16 km from Panaji.
Major attractions: Fort Aguada Lighthouse, Sinquerim Beach, Church of Our Lady Of Hope.
Manali to Leh Bike Trip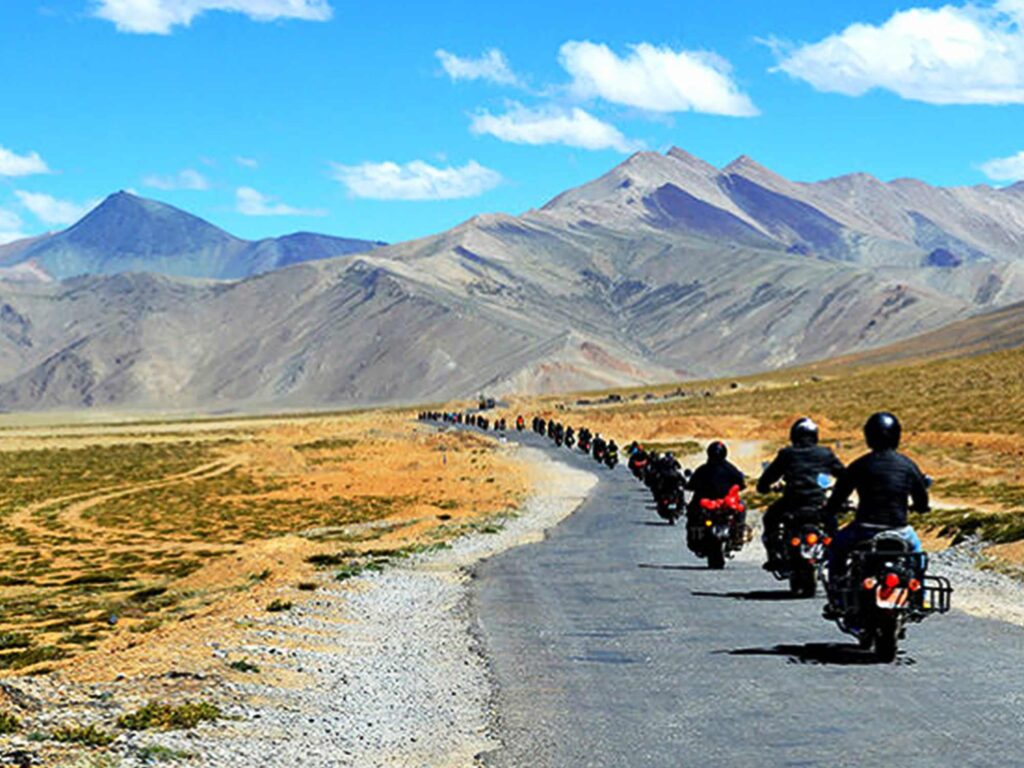 Taking a bike trip in India is the best way to explore the culture and adventure all around Manali-Leh national highway, which is one of the most famous yet less travelled high altitude roads. It is, of course, renowned for its motorcycle tours. A thrilling road trip from Manali to Leh does cover several twisty and adventure routes, such as Solang valley, Gata Loops, Manali, Pang, Magnetic hill, and so much more. Renowned and celebrated for its scenic views snow-clad mountains, landscape, and dangerous routes are a bikers paradise and are on every bikers bucket list.
Best Time: June-September.
How to reach: The roads to Manali are well connected to different places, including Delhi (540km), Chandigarh (305km), and Dehradun (227km).
Major attractions: Pangong Tso, Namgyal Tsemo Gompa, Zanskar Valley.
Are you excited after going through the list? Take the excitement to the next level by adding these activities to your upcoming trip. For our readers, have already ticked off some of the names here; share your experiences in the comment below. Happy adventuring! Baffled by the constantly changing travel protocols? Or wondering how to get all the required permits and passes for some of these places? Have every detail regarding your tour covered from end to end by experts! Also, enjoy hassle-free flight booking, train booking, airport transfers, and more! Get in Touch with our travel experts today and enjoy a truly hassle-free travel experience.
Viesearch – Life powered search